Jesus said, "I am the living bread that came down from heaven; if anyone eats of this bread, they will live forever… whoever eats my flesh and drinks my blood has eternal life and… abides in me and I in them."
John 6:51, 54, 56
One of the seven Sacraments instituted by Jesus, the Holy Eucharist – or more popularly called "Mass", the nickname we use for our worship of God – is the source and summit of the Christian life.
The beauty, goodness and truth of this Sacrament are expressed, in part, by the different names given it:
Eucharist is a biblical word and essential event of the early Church –  an action of thanksgiving to God (Luke 22:19; 1 Corinthians 11:24).
The Lord's Supper brings to the forefront the self-evident connection with the meal Jesus celebrated with his disciples on the eve of His Passion (1 Corinthians 11:20) and also anticipates the wedding feast of the Lamb in the heavenly Jerusalem (Revelation 19:9).
The Breaking of Bread, especially used by the Gospel writer Luke (who also wrote Acts of the Apostles) signifies that all who eat the one broken bread whom we believe to be Christ Himself enter into communion with Him and form one body in Him.
The Holy Sacrifice [of the Mass] emphasizes the one true sacrifice of Christ the Savior in which we participate each and every time Eucharist is celebrated.
Holy Communion marks the fact that we unite ourselves to Christ who makes us sharers in His Body and Blood to form a single body (1 Corinthians 10:16-17).
Holy Mass places before us the reality that we are sent forth after having received the Holy Eucharist to let the will of God be done in us and all whom we encounter in our daily living ("Mass" from the Latin "missio" meaning "sending forth").
At Little Flower, second-grade children are well-prepared throughout the year to receive Holy Eucharist for the first time during the Easter season.
Adults prepare to receive Holy Eucharist for the first time through the Rite of Christian Initiation of Adults (RCIA) which is celebrated at the majestic Easter Vigil Mass.
A Guide to Mass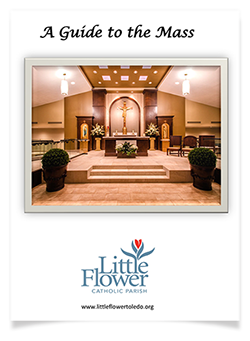 Holy Communion regularly and faithfully is brought to members of our parish family who are ill or unable to join us for Sunday Mass by a devoted group of kind people who are known in the parish as Tarcissians.
To make arrangements for Holy Communion to be brought to your home, please contact either: