Now more than ever, the pandemic has drawn our attention to the fact that we are social beings. We are created to be in communion with one another and to journey together to our heavenly home.
Our living in community can at times become tainted as we are led astray by aspects of our culture that influence us toward evil rather than toward God. The 2020 Netflix documentary film The Social Dilemma explores the dangerous human impact of social networking, with tech experts sounding the alarm on their own creations.
2020 PG-13 | 1 h 34m (available on Netflix)
This documentary-drama hybrid explores the dangerous human impact of social networking, with tech experts sounding the alarm on their own creations.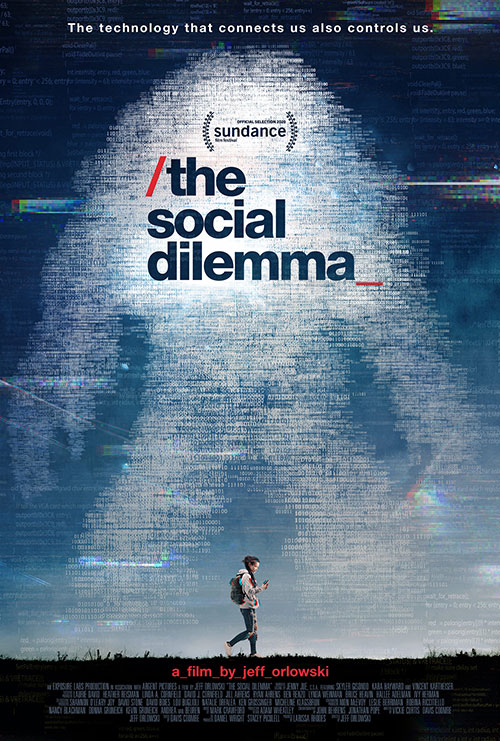 As a Church community, we have the right and responsibility to be part of this conversation.
Join Father Dave and parishioner Rick Lingvai for a conversation regarding the impact of social media use in our lives and suggested best practices. Click to play the video below:
SUMMARY NOTES
"The only real tragedy in life is not to become a saint." – waste of time
Technology is a wonderful gift when used properly.
Aim for prudential, smart use rather than allow it to be distorted.
The Church's Scripture and Tradition have much to say about the culture in which we find ourselves.
"To look at the signs of the times through the eyes of faith." – Eucharistic Prayer
St. Augustine – "O Lord, our hearts are restless until they rest in Thee." [The Confessions]
Evil – the illusion of that which is good, we make choices in an effort to feel different
We are called to live contemplatively – always striving for friendship and union with God
Silence itself is a language leading us to God
Rooted in a sense of gratitude and awe before Mystery
Excessive use of technology can be an attempt to fill a void of mystery
Technology is meant to be a tool – only useful if I use it as it is meant to be used
Can lead us to feel we need to dominate and control rather than living in a spirit of reverence and awe.
Clicks are named "Quick bait" – meant to lead us in a particular way, to make sales, can lead to technology dominating me.
SUMMARY NOTES
We are created as contemplative beings and have a need to feed our contemplative spirit through prayer, nature, conversation, literature, music, etc….
Practical ideas for responsible and measured use of technology and social media:
Set "off limits" time for technology i.e. during meals, certain days of the week, at night
Turn off notifications so as not to be driven by them.
Use the "Guided Access" accessibility feature that locks you into a particular app
"Hide Alerts" feature in the iphone text messaging
Establish "no fly zones" in your home where devices are not permitted
Use the "downtime" feature
Make use of software monitoring resources, especially made for parents to monitor children's devices
If deleting or limiting technology, be aware of filling the void with something positive. It is not enough to say "no"; there is a need for a bigger "yes."
The pandemic has gifted us with:
The opportunity to slow down and use our time differently
The opportunity to grow and develop
The time to fashion new habits and rituals
The time to be more intentional in relationships
It is important for parents to build trust with their children and to talk to each child each day.
The domestic Church is essential!
Bishop Robert Barron's Commentary on The Social Dilemma
In this episode of "The Word on Fire Show," Bishop Barron discusses some of the film's insights and offers a Catholic perspective on social media, technology, and their addictive qualities. Click the video below to watch.