12 Week Prayer Challenge
We invite you to choose an individual, family or household from our parish and intentionally pray for them for a week.
I suspect we have all received various "challenges", especially as we enter the New Year 2021. Whether related to health, spirituality, connections with others, these challenges are intended to encourage us to pause and make an intentional choice.
Each week from January 10 until Easter on April 4, choose someone from our parish for whom you will pray. This could be someone who is struggling, someone who inspires you, someone who celebrated a milestone recently, someone who is grieving a death…
Find a way each day of the week to remind yourself to lift them in prayer, asking God to fill their needs and desires.
You may wish to let them know at the end of the week that you have prayed for them. (totally optional)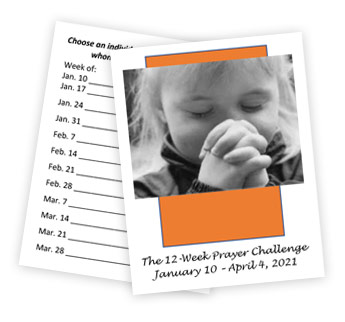 Print At Home Cards
Click the link below to download a pdf file that you can print at home.