Lent 2021
At Little Flower
"This is the fasting I wish: releasing those bound unjustly, untying the thongs of the yoke; setting free the oppressed, breaking every yoke; sharing your bread with the hungry, sheltering the oppressed and the homeless; clothing the naked when you see them and not turning your back on your own"
(Is. 58:6-7).
Weekly
Inspirational

Video
This traditional devotion invites us to reflect on the searing love of Jesus that led Him to suffer and offer His life for us. Accompanying Him in His suffering, we walk the way of the cross and implore the grace to love Him in return. The Stations of the Cross may be prayed at any time and in any setting.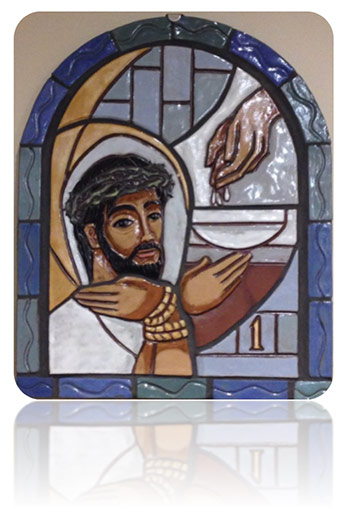 Confessions
Wednesdays | 6:00 – 6:45pm
Feb. 17, 24, Mar. 3, 10, 17
Wednesday, March 24th | 6:00pm
(several priests available)
The Sacrament of Reconciliation (Confession) is a rich treasure of Divine Grace, enabling us to recognize our sins and failings and return to God for mercy and forgiveness. God, our Prodigal Father, seeks us out and eagerly awaits our return.
Little Flower
LIVE
Pope Francis has declared this the Year of St. Joseph (Dec. 8, 2020-Dec. 8, 2021). Join us as we reflect on the heart of Joseph and the virtues he so generously lived and taught Jesus in the home at Nazareth as well as how we are called to live these virtues in our own lives.
Tuesdays @ 8:00pm
Feb. 16, 23, Mar. 2, 9, 16, 23, 30
(Rite of Christian Initiation of Adults)
The RCIA journey by which individuals become fully initiated members of the Catholic faith reach a high point during the weeks of Lent. Several rites are held during these weeks as the parish community prays with and for those preparing to receive the Easter Sacraments. They look to our support and witness as they learn what it means to be a disciple of Jesus.
Recommended Reading List
One way to enhance and nurture our prayer life during these days of Lent is by engaging in meaningful spiritual reading. The resources offered to us by our Church are many. Listed below are some recommendations. Additional resources will be added throughout the Lenten season.
Of Gods and Men
Rating: PG-13
Released: 2011
Running time: 2:02:47
Fatima
Rating: PG-13
Released: 2020
Running time: 1:53:21
A Hidden Life
Rating: PG-13
Released: 2020
Running time: 2:54
The Passion of the Christ
Rating: R
Released: 2004
Running time: 2:07
A Most Beautiful Thing
Rating: TV-MA
Released: 2020
Running time: 1:35
The Chosen
Rating: TV-PG
Released: 2019
Running time: 0:54