Forgiveness Webinars
Archive

God's Word provides all we need to navigate through painful realities of being hurt and offended by people and groups by showing us how to connect with Him.
It feels lousy when we are hurt or offended by people and groups. When we are the recipients of others' insensitivities and injustices, the natural response is to try to change how we feel. This tempts us to say and do things that merely change feelings temporarily – a sharp retort, extended quiet treatment, brooding and pouting. Unless we know how to connect with God as we really are, negative feelings from being hurt and offended deepen quickly. Suddenly initial disappointment and anger quickly turn to resentment and vengeance.
Forgiveness is the healthy and holy response God makes possible when we are hurt and offended by others. Presented as five (5) simple steps to practice regularly with the aim of becoming a new spiritual habit, Forgiveness is the biblical pathway toward becoming the kind of people normally and naturally that Jesus wants us to be.
Forgiveness Practice Tools
"We are delighted to share with you this COUPON CODE enabling you to purchase two Forgiveness books for the price of one.
The COUPON CODE is: littleflower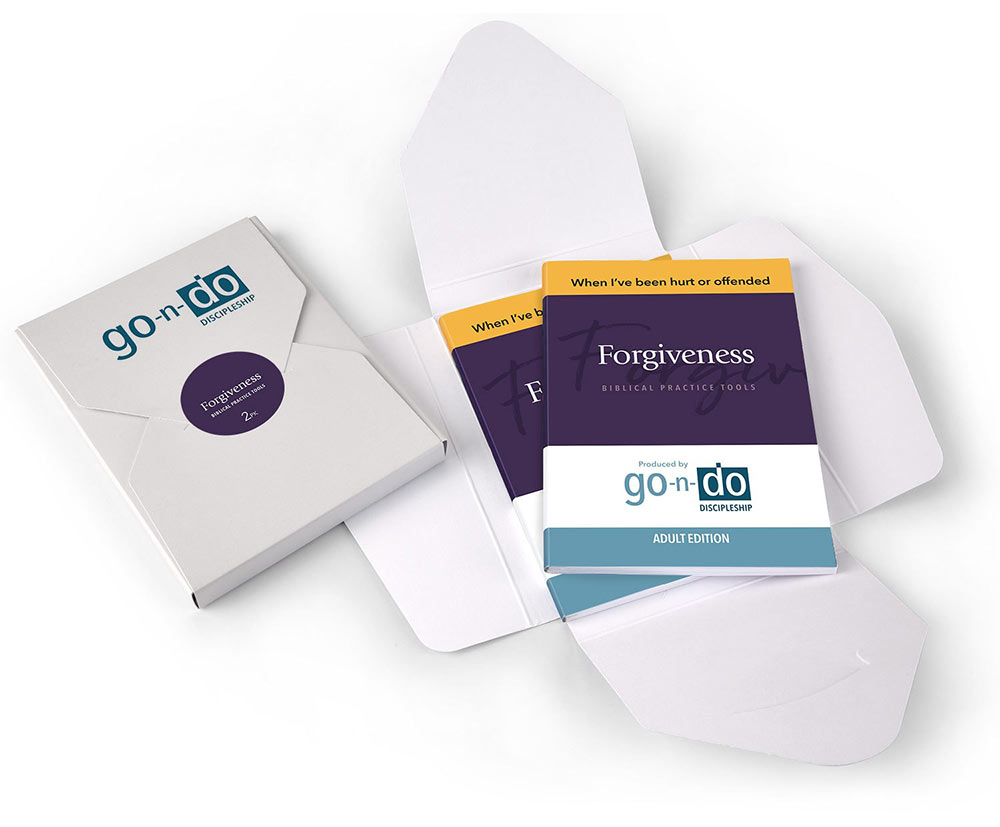 Forgiveness Webinars
Click the tabs below to access the recorded webinars.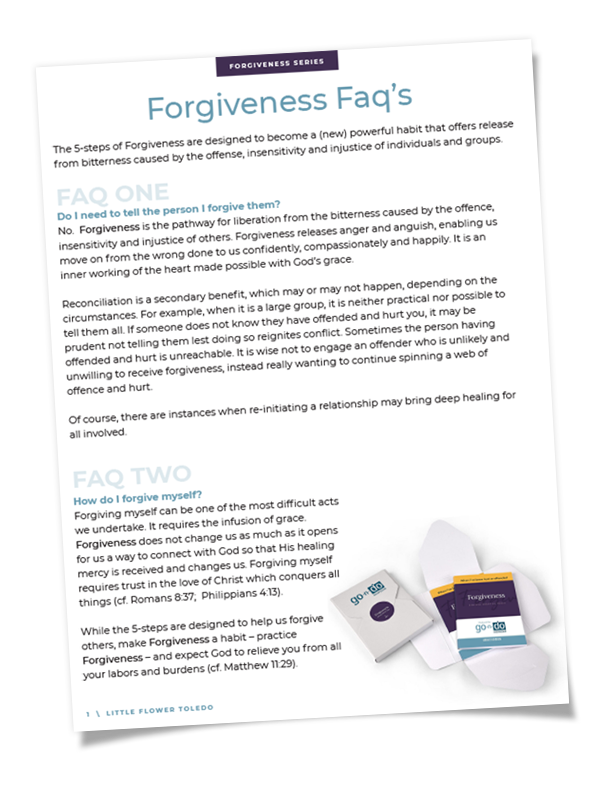 Forgiveness Faq's
The 5-steps of Forgiveness are designed to become a (new) powerful habit that offers release from bitterness caused by the offense, insensitivity and injustice of individuals and groups.
Click below to download a printable FAQ on forgiveness.
Additional Clarifications
God's forgiveness of us is more powerful than our worst offense, however wrong and reprehensible our behavior was. Please download a printable below that supplies additional clarification.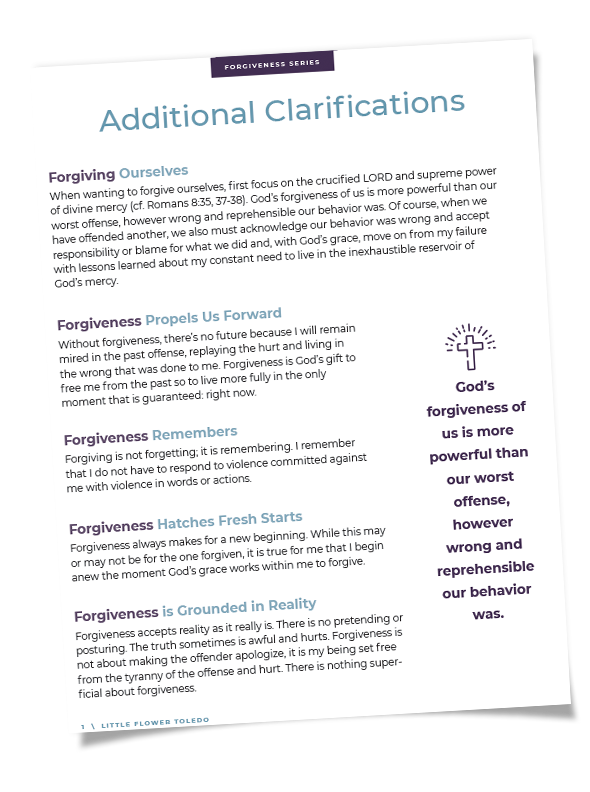 Only by grace and mercy God first shows us are we even able to live as instruments of His forgiving love for others.
It is right there in the very heart of the prayer Jesus teaches us: "Forgive us our sins as we forgive those who sin against us." If we do not forgive we shall not be forgiven. 
So, then, how do we forgive, especially when the affront done to us is deeply hurtful and terribly offensive? How do we forgive when the offender is not remorseful? 
The pain others cause us by their insensitivity and cruelty is real. And the negative effects of unforgivness assuredly will harden our heart. 
Forgiveness never makes a wrong a right – what was wrong remains wrong now and forever.

 

Forgiveness releases us from the bitter feelings that formerly had hold on us and enables us to move forward not looking back.

 

Praying with Scripture when I am hurt or offended
"As far as the east is from the west, so far does the LORD remove our transgressions from us." Psalm 103:12
"I am he who blots out your transgressions for my own sake, and I will not remember your sins." Isaiah 43:25
"if one has a complaint against another, forgiving each other; as the Lord has forgiven you, so you also must forgive." Colossians 3:13
"As far as the east is from the west, so far does the LORD remove our transgressions from us." Psalm 103:12
"and forgive us our debts, as we also have forgiven our debtors." Matthew 6:12
"Be kind to one another, tenderhearted, forgiving one another, as God in Christ forgave you." Ephesians 4:32
"Come now, let us reason together, says the Lord: though your sins are like scarlet, they shall be as white as snow; though they are red like crimson, they shall become like wool." Isaiah 1:18
"If we confess our sins, he is faithful and just to forgive us our sins and to cleanse us from all unrighteousness." 1 John 1:9
"And whenever you stand praying, forgive, if you have anything against anyone, so that your Father also who is in heaven may forgive you your trespasses." Mark 11:25
From its beginning, Christianity has understood the impressive fruits displayed from our repeating good habits. The Catechism of the Catholic Church describes
A virtue as a habitual and firm disposition to do the good. It allows the person not only to perform good acts, but to give the best of their self (1803).
In recent times, exciting discoveries in neuroscience have advanced understanding of human physiology changing by means of repeating good habits in such ways that good habits repeated over time make for more likely good choices to be made when faced with a decision.